Is This the Proof That Copper Cures Arthritis?
Dr. Albert Singer, a noted British physician, conducted a study of 230 users of The Original Copper Heeler insole and found an amazing 96 percent claimed remarkable improvement from wearing the product.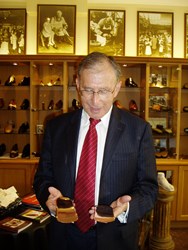 Dr. Albert Singer's study showed 96 percent of users get better using the Copper Heeler insoles.
"I am not taking any medication at all and my pain is gone. All thanks to the Copper Heeler," Dr. Albert Singer.
New York, NY (PRWEB) January 23, 2014
A Medical study in England showed that 96 percent of patients who suffered from the crippling pain of arthritis improved by wearing The Original Copper Heeler®™ insole.
Copper has long been used by practitioners as a form of alternative medicine in the treatment of pain and is an essential mineral that the body needs but many people, especially the elderly are deficient in it. To date there has been no proof it works.
However, that could change after an eminent physician was so impressed by the Copper Heelers in treating his own arthritis that he commissioned a study.
Dr. Albert Singer oversaw a study of 230 arthritis patients who were given Copper Heelers insoles to wear and test. An overwhelming majority, 96 percent, reported pain relief, renewed energy and vigor that had been lost from years of debilitating pain from arthritis and other joint disorders.
This was accomplished without the use of painkillers or surgery. The stunning results have been published in England and the Copper Heeler has taken the country by storm. It is now available here in the United States at http://www.theoriginalcopperheelerusa.com. A link to the study is provided here.http://www.theoriginalcopperheeler.com/Singer/Prof_Singer_paper_The_Impact_of_Copper_Inserts.pdf
The study was done at a London hospital by Dr. Singer and other staff members and released in 2012.
Dr. Singer, 73, discovered copper insoles by accident. He had suffered from osteoarthritis in his knees and feet for several years, and had worn custom-made orthotics for the past six years. 'I was at the place where they made the orthotics when I overheard a lady saying that since she'd worn copper insoles, her arthritic pain had gone and she had been able to stop some of her medication," said Singer. "I asked him what she was talking about. He showed me the Copper Heelers. All his patients said the copper insoles helped their arthritis."
The theory behind Copper Heelers, is that the copper is absorbed through the skin to relieve pain throughout the body even when socks or stockings are worn. Users say relief sometimes starts immediately but more likely takes a couple of weeks for marked improvement.
"About 21 percent of the population in the USA is affected by arthritis," said Singer. "If by putting Copper Heeler insoles in your footwear could help, it would be of great benefit. As a scientist setting up a study was the least I could do."
Dr. Singer tried the insoles for himself and within three weeks he says his pain had gone. "When I see a consultant and they look at my X-Rays, they say my arthritis is so bad I should be in chronic pain," he said. "But I'm not, and I'm not taking any medication. I can only put it down to the Copper Heelers."
A British company, Arthritis Research UK, said of the study: "The findings of Dr. Singer's study are interesting but as this research was not conducted as a formal trial it is not possible to reach any conclusion. However, people with arthritis report feeling the benefits."
The inventor is Anthony Andrews who has been making custom-made footwear for over 50 years and believed he could develop something to help his customers. "I was seeing so many patients who were suffering the pain of arthritis I was passionate in finding a drug-free, cost effective remedy. That's what we did and now we want to share this with America."
The Original Copper Heeler®™ insole is made of jewelry-grade copper in England and is available in all sizes it can be placed directly into the shoe or attached to a separate insole which can be moved from shoe to shoe. Priced at $49.50 a pair, plus $3.95 shipping. The company offers a full refund if not completely satisfied.
More information, customer reviews or to order, visit http://www.theoriginalcopperheelerusa.com or call 1-800-374-5514. The Original Copper Heeler insole. Winning the war on pain one pair at a time.
About the Original Copper Heeler insole
The Original Copper Heeler insole is the leading copper insole in the world and is designed to fit into any footwear either by fastening the heeler with Velcro or by attaching it to a portable insole that can be moved from one pair of shoes to another. The Heeler is made of jewelry-grade copper in England and shipped to the US for its growing customer base. For more information on the Heeler, plus customer reviews and other useful information please visit us at http://www.theoriginalcopperheelerusa.com. Read our blog, like us on Facebook and look for us on Twitter.